---

2014-2015 Performance Schedule
Where Les Gustafson-Zook is appearing this year.
Les is known nationally for his expressive and energetic autoharp playing. Considered by many to be one of the world's leading autoharp players, he's performed and given autoharp workshops at festivals across the country, including: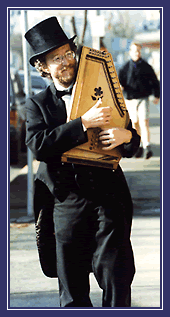 Les was the 2001 International Autoharp Champion at Winfield, Kansas and the 1989 National Autoharp Champion. He's also placed 2nd twice in the prestigious Mountain Laurel Autoharp Championships in 2000 & 2001 Before moving to Indiana, he taught autoharp for five years at Linn Benton Community College in Corvallis, OR and provided leadership for the Willamette Valley Autoharp Gathering, during it's 20 year history. Les also gives private lessons in Goshen, IN.
Les has arranged 30 Hymns for the intermediate autoharpist, producing a book called the Autoharp Hymnal. Included is a CD with Les playing each of these arrangements. Click for ordering information